Orthodontic treatment in Woodbridge, ON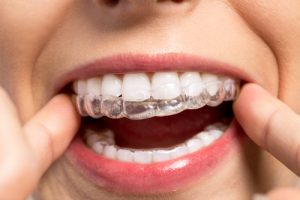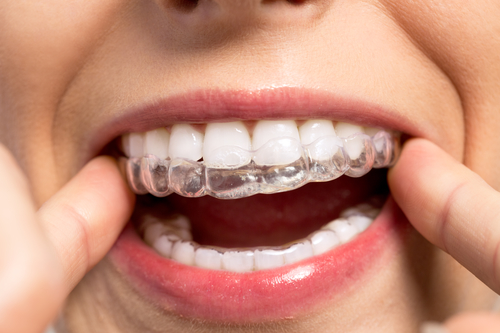 Simple retainers, Invisalign, and traditional metal braces are all offered by the team at Sabharwal Dental Group.
Braces are not dependent on age, but on one's dental condition. As soon as malalignment is identified, we investigate the likelihood that natural development will resolve the problem. As early as age 6 and as late as the senior years, tooth malalignment can be corrected with proper orthodontic care.
TRADITIONAL BRACES
Traditional braces involve the placement of small precise metal brackets onto the teeth. A special wire runs through each bracket on the top arch and a second on the bottom arch. Each month, this wire is adjusted in the most suitable way to achieve the desired movement at the time. Some months, we may need to move a single tooth in a certain direction. At other times, adjustments will affect a larger area. Traditional braces are a cost-effective way to improve oral health and function, even when malalignment is severe.
INVISALIGN
Many people today find the idea of clear, removable braces very appealing. We are pleased to offer teeth straightening with the Invisalign system. At the same time, we are careful to support this system for cases in which the bite is not severely affected. The advances that have been made to the Invisalign system make it suitable for a wide variety of situations. Mild to moderate cross-bite, underbite, or overbite may be nicely corrected with this comfortable treatment.
Invisalign aligners replace the need for permanent brackets and wire fixtures in the smile. These clear plastic trays are designed using precision software that turns images and models of a patient's teeth into a full animated movie through which we can see every movement on the path toward a healthy, attractive smile. Though the progression of treatment is facilitated by a series of aligners, we maintain routine visits about every four to six weeks to follow up on oral health and proper movement.
In order to achieve the desired outcome from Invisalign treatment, it is necessary to comply with recommended daily wear, which is typically 22 hours a day. Aligners should be removed only for meals, snacks, and oral hygiene. Occasionally, they may be removed for a special event.
RETAINERS
Some patients may be treated solely with a simple retainer that will guide healthy development. Patients who are treated with traditional braces or Invisalign, as well, will be fitted with a removable or fixed retainer in order to maintain the results achieved through orthodontic care. Retainer wear will continue for several years as a way to prevent relapse into malignment.
Our team at the Sabharwal Dental Group wants you to experience your healthiest, most satisfying smile. To consult an experienced dentist about orthodontic treatment, contact us in our Toronto, Woodbridge or Vaughan dental offices.