Crowns and Bridges in Woodbridge, ON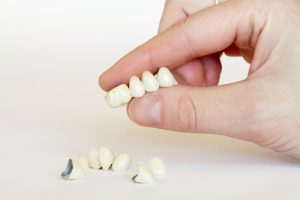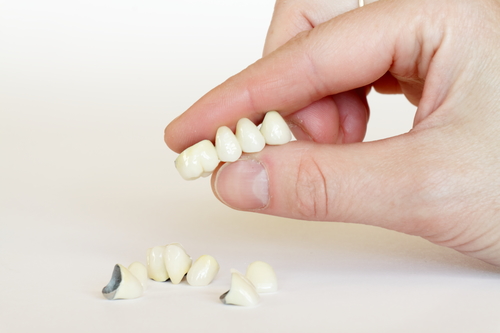 Thanks to numerous advances in dental technology, we have several ways to restore or replace teeth that have sustained significant damage. Patients of the Sabharwal Dental Group receive good quality dental care in which they are provided with a detailed description of the patient's oral problem, specific recommendations to treat the problem and a comprehensive and detailed customized treatment plan. Functional and cosmetic restorations are selected by both the patient and professionals of the Sabharwal Dental Group only after a thorough consultation, evaluation, and complete discussion of options.
CROWNS
A dental crown, also referred to as a "cap", may be used to protect a fragile tooth, or restore a tooth which cannot be filled. The full coverage supplied by the customized dental crown creates a buffer between a damaged tooth and the forces exerted in chewing. Some of the most common situations for which a dental crown may be used are, a severely broken or damaged tooth or a tooth that has been treated with root canal therapy. Additionally, crowns may be placed over a tooth that poses a significant cosmetic problem. Crowns may be fabricated from a number of different materials. Porcelain is a popular option due to its long lasting strength and strong resemblance to natural enamel. Your dentist at the Sabharwal Dental Group will provide you with pertinent information on your choices so that you may select the right crown for your needs.
BRIDGES
Dental bridges are prosthetics designed by your experienced dentist to replace missing teeth. Bridges often contain two dental crowns. In between the crowns is an artificial tooth or teeth that will sit on the gums and fill the empty space. We are pleased to offer our patients options that suit their needs. A bridge may be fabricated from all-ceramic material or may have a metal sub-structure on which an overlay of porcelain may be applied for the most natural appearance.
Restorative care with a crown or bridge may be completed over two office visits. After the initial consultation during which the most appropriate solution is decided upon, preparation for restoration may begin. If we are treating a damaged tooth, preparation may involve the removal of damaged enamel and slight reduction of the tooth to accommodate the crown. An impression is then taken to guide the design of the final restoration. If we are replacing missing teeth with a bridge, the teeth that will hold the bridge are prepared via slight reduction before we take impressions. In a follow up visit, the final restorative crown or bridge is evaluated and bonded into place.
Your smile is crucial to your sense of wellbeing. Our experienced team can help you address dental concerns quickly. Call the Sabharwal Dental Group to schedule your consultation.